18th INTERNATIONAL SYMPOSIUM
ON
THEORETICAL & APPLIED LINGUISTICS
May 4-6, 2007, Capsis Hotel
Department of Theoretical & Applied Linguistics
School of English
The Symposium welcomes papers on English and/or Greek in any area of Theoretical and Applied Linguistics. Each research area will be equally represented and papers will be selected accordingly.
The Symposium will also host two thematic events, a workshop on Learning Strategies and Teaching Strategies for Autonomy and the 3rd International Conference on Modality in English.
Presentations will be 20 minutes long followed by a 10-minute discussion. Papers may be in English or Greek.
INVITED SPEAKERS
Harald Clahsen (University of Essex, U.K.)
Michel DeGraff (M.I.T., U.S.A.)
Roberta Facchinetti (Università degli Studi di Verona, Italy)
Claudia Felser (University of Essex, U.K.)
Liliane Haegeman (Université Charles-de-Gaulle – Lille 3, France)
Ken Hyland (University of London, U.K.)
Marianne Nikolov (University of Pécs, Hungary)
Frank Palmer (University of Reading, U.K.)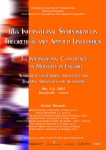 Registration fee for the 18th Symposium and the two thematic events

Early registration
(up to 3/4/2007)
Late registration
()
Regular Rate
90 €
120 €
Student Rate (under- and postgraduates)
35 €
50 €
*Please note that the bank expenses are not included in the Symposium's fee.
** The above fees include participation in all three events as well as the Symposium Dinner
How to register / Payment options
a. Money Transfer to Piraeus Bank in Euros
Account no: 5202-029284-725
BIC: PIRBGRAA
IBAN: GR13 0172 2020 0052 0202 9284 725
b. Credit card online payment.
Do not forget to note your transaction number in the registration form in the space provided.
Do not forget to fax your signed registration form. The deposit receipt of the Bank or the transaction number (for credit card online payment) along with the print-out of your registration form should be faxed to: (+30) 2310 997432 (attn. Lia Efstathiadi). Students should also fax a copy of their student ID.
Alternatively, you can register at the School of English, New Building of Philosophy
Mondays 12:00-14:00 (office 308A), Thursdays 12:00-14:00 (office 308A)
Registration during the Symposium will only be possible at Capsis Hotel .
Accommodation
The Symposium will take place at Capsis Hotel. Reservations should be made by e-mail directly to the hotel (reservations@capsishotel.gr); contact person: Mr. Iakovos Manes. In your e-mail message you should mention:

that you are a participant of the 18th Symposium on Theoretical & Applied Linguistics/3rd Conference on Modality in English/Workshop on Learning Strategies and Teaching Strategies for Autonomy, so that you will be charged with the special rates for the Symposium (single room 78 euros, double room 95 euros, breakfast included),
the exact dates of your arrival and departure
the type of room you wish to book
For further information about the city of Thessaloniki please visit: http://www.saloniki.org.
Transportation from the Airport to Capsis Hotel:
You get bus No. 78 from the airport, and you get off at the Bus Stop "Plateia Dimokratias". (The buses run approximately every 30 minutes, the first bus is at 05.50 and the last one at 23.00)

You can also get a taxi that will take you from the airport directly to the hotel (Capsis Hotel Thessaloniki, 18 Monastiriou Str.)

Organising Committee

Mailing address

Anastasios Tsangalidis
Lia Efstathiadi
Carol Everhard
Paschalena Groutka
Maria Moumtzi
Despina Papadopoulou
Dr. Anastasios Tsangalidis
Aristotle University,
School of English,
541 24 Thessaloniki,
e-mail: symposium18@enl.auth.gr
fax: +30 2310 997432